Established in 1999, Little Mountain Sportsplex has developed to be one of the premiere sports facilities in Manitoba. Boasting a massive 213 acres of greenspace, the converted farmland turned multi-sports facility is home to: 28 softball diamonds, 6 disc field, 4 full-sized soccer fields, 3 full-sized hockey rinks, and a fully licensed 433 person capacity clubhouse featuring on-site bar & grill, patio and picnic area.
Little Mountain Sportsplex is visited by approximately 400,000 patrons throughout the year serving numerous age groups through a variety of sport, corporate and social events.
Programming
MOUNTAIN PITCH at Little Mountain Sportsplex

Men's Slo-Pitch (Certified Umpires)
Women's Slo-Pitch (Certified Umpires)
7&3 Summer Coed (Certified Umpires)
6&4 Summer Mat Pitch Coed (Self-Officiated)
7&3 Fall Ball Coed (Certified Umpires)

MOUNTAIN SPONGEE at Little Mountain Sportsplex

Men's Spongee
Coed Spongee

MODS (Manitoba Organization of Disc Sports) host facility.
CANLAN ICE SPORTS Adult Outdoor Soccer League (AOSL) host facility.
Canadian Breast Cancer Federation presents: Batting Against Breast Cancer Charitable Slo-Pitch Tournament
Slo-Pitch National (Manitoba) Host Facility of Provinical and National events.
Sponsorship
Is your business ready to increase sales? Little Mountain Sportsplex wants to help.
Little Mountain Sportsplex currently offers a range of corporate sponsorship and advertising opportunities catered specifically to your business. If you would like more information on sponsorship or advertising opportunities with Little Mountain Sportsplex, please contact Matt Sigfusson, General Manager at (204) 694-3210 or at lmsports@mts.net.
Current Sponsors/Advertisers:
Grand Slam Sponsors:
Home Run Sponsors:
Other Sponsors/Advertising:
Location
LMS is located in the R.M. of Rosser, Manitoba but inside the perimeter of Winnipeg. To find us using NAV or GPS systems, please use the following address:
64-128 Klimpke Rd. (Rosser, MB)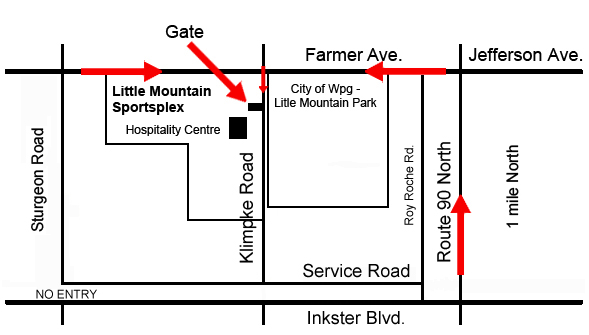 The entrance gate is located on Klimpke Road between Inkster Boulevard and Farmer (Jefferson) Avenue.
Our Team
Administration
Matt Sigfusson, General Manager Phone: 204-694-3210 info@littlemtnsports.com
Joe Raposo, Administrator Phone: 204-694-3210 accounts@littlemtnsports.com
Mike Sigfusson, Operations Manager Phone: 204-694-3210 operations@littlemtnsports.com
Robert Sigfusson, Facility Director Phone: 204-227-2789 info@littlemtnsports.com
Employment
With the vast amount of product and services offered at Little Mountain Sportsplex serving approximately 400,000 clients annually, Little Mountain Sportsplex requires a great team of responsible and reliable staff. Little Mountain Sportsplex requires qualified personnel for the following positions at our facility:
Sales & Marketing Specialist
Develop advertising campaign(s).
Market and manage advertising portfolio to prospective advertisers.
Build and maintain positive and successful relationships with corporate sponsors.
Increase brand awareness and customer experience through a creative mix of media.
Field/Ice Crew
Responsible for ensuring all playing fields and facilities at Little Mountain Sportsplex are properly maintained.
Bar & Grill Positions
Servers – Evenings/Weekends
Bartenders – Evenings/Weekends
Cooks – Evenings/Weekends
If interested, please forward a resume to Matt Sigfusson, General Manager, at info@littlemtnsports.com